This week we're reminiscing the life lessons learned from 10 Things I Hate About You, because this perfect rom-com officially turns 20!  A modern retelling of Shakespeare's Taming Of The Shrew, we fell in love with this cute flick instantly. Starring the late, great Heath Ledger (sob) as Patrick Verona, Julia Stiles as riot grrl Kat Stratford, Larisa Oleynik as princess Bianca Stratford and the adorable Joseph Gordon-Levitt as Cameron, let's start from the top.
Always be yourself.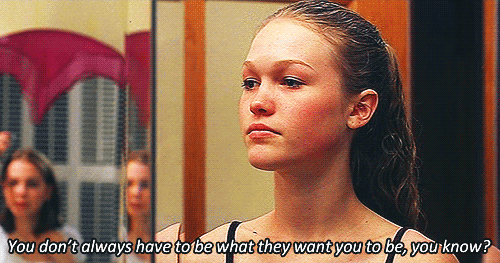 Case in point, Kat Stratford. From her first scene blaring Joan Jett anthem
"Bad Reputation"
at the traffic lights, to table-top dancing and telling Joey "Eat Me" Donner
exactly
where to go, Kat Stratford is and always will be our girl power icon.
Late '90s style was the best.
On the cusp of '00s and '90s, this one's more of a style lesson from 10 Things I Hate About You. Whether you're into Bianca's oh-so cute floral dresses and cardigans or Kat's grunge khakis-and-a-top combo…
There's a difference between like and love.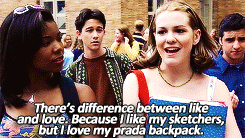 Just in case you didn't know.
Widen your vocabulary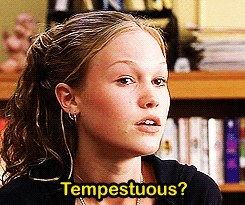 Whelmed. 
Verb: 
past tense: 
whelmed
; past participle: 
whelmed.
To engulf, submerge or bury.
Tempestuous. Adjective: characterized by strong and turbulent or conflicting emotion.
We even learned a little French. Use this one on your crush."Laissez-moi vous poser une question, Cameron. Quand allez-vous me demander de sortir?" which translates to "Let me ask you a question, Cameron. When are you going to ask me out?"
Motivational. Speaking.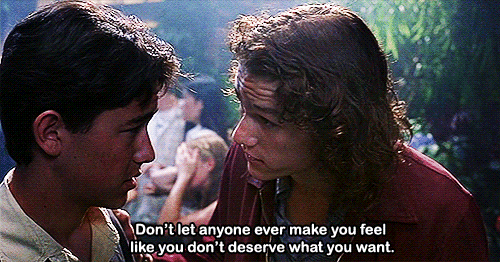 More life lessons learned from 10 Things I Hate About You. Feeling a little unsure of yourself? "You don't always have to be what they want you to be, you know?". Imposter syndrome? "Don't let anyone ever make you feel like you don't deserve what you want". Unsure about what to do next in life? "I don't like to do what people expect. Why should I live up to other people's expectations instead of my own?". The inspiration is endless.
It's okay to let your guard down sometimes.
This
scene gets us every time. Kat might have been a Strong Female Lead©, but she let her emotions show when Patrick hurt her, which in turn made him realise just how badly he messed up. It's okay to not wear that mask – let others see you for who you are.
Speaking of life lessons, here are 7 tell-tale signs you should hit unfollow on Insta.